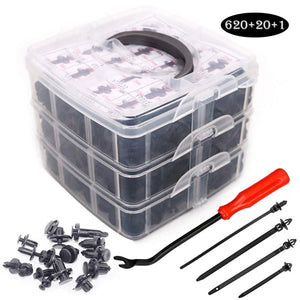 Great Assortment Push Retainer Kit , fitting for door trim, radiator shield yoke, fender, bumper and splash shield retainers replacement for Ford, GM, Chrysler, Toyota, Honda and more.
SAVE TIME AND MONEY - You can find 620PCS automotive push type retainer kit in the box and no need to go to a auto parts store to look for different fasteners. You can remove the old clips using free fastener remover.
HIGH QUALITY - High quality material with heavy-duty construction for durability, this push type retainers set would not break or crack easily during use.
MOST COMMON SIZES - Do not worry about lost or damaged body fasteners. All the necessary retainers for exact replacement of old and broken retainer.
Box Compartment Includes Detailed Images Of Size And Quantity For Each Retainer To Help Stay Organized.