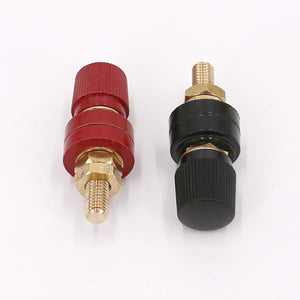 High quality: 5/16" (M8) stud design high current terminal block. Easy to install and flexible to use. Please feel free to contact us if have any product question. We will provide the best service.
Features: Pure copper terminal block, high efficiency, bakelite insulation material, with perfect safety performance.Notice:M8 battery terminal is 1.25 threaded holes.
Easy to install: 2 nut system is simple to install and flexible to tighten the connector without worrying about loosening the bolt from the bolt.
Application: Widely used in the separation and distribution of welding machines, charging generators, ships, RVs, trucks, automobiles, solar cells.
We try to do best to serve our customers,please contact us if have any question.You've got a 30 day 100% Money Back , no questions asked if you feel our battery terminal connectors not good.Thanks.