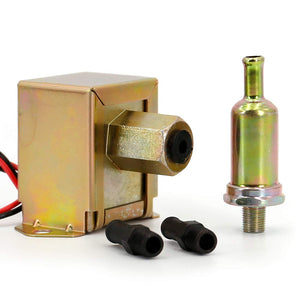 Inline Fuel Pump Output Pressure: 2.5-4PSI; Input Voltage: 12 Volt; Flows: 90 L/h
This check valve can be upgraded to provide the most suitable flow rate and reduce the noise of the pump. Commutators are precisely matched and brush materials provide long-lasting, consistent performance and extended life for a variety of fuel formulations
Crossreference : E8012S HEP-02A FD0002 P60430 EP12S 6414671
Compatible Electronic Devices All 12 Volt Cars, Trucks , Boats, Carburetor, Lawnmower and Generators
Fitment:Our electric fuel pump is for All 12 Volt diesel equipment(Cars , Trucks , Boats & Generators) NOTE: This is a gasoline pump, a diesel pump, and cannot be used for non-oil substances such as pumping water. Otherwise, the internal components are easily broken and the product will not be used for a long time.