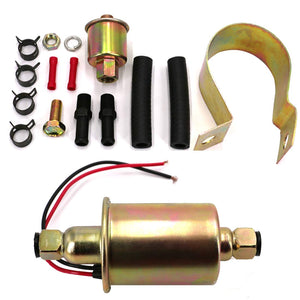 E8012S Inline Fuel Pump Output Pressure: 5-9PSI; Input Voltage: 12 Volt
Stronger suction to ensure the fuel feeding of the car more stable
The check valve can upgrade provides optimal flow, reduce pump noise, and lower quieter operations. Commutator that is precisely mated and brush materials provide durable, consistent performance and extended life in various fuel formulations
Compatible Electronic Devices All 12 Volt Cars, Trucks , Boats, Carburetor, Lawnmower and Generators
Fitment: Our electric fuel pump is for All 12 Volt diesel equipment(Cars , Trucks , Boats & Generators) NOTE: This is a gasoline pump, a diesel pump, and cannot be used for non-oil substances such as pumping water. Otherwise, the internal components are easily broken and the product will not be used for a long time.