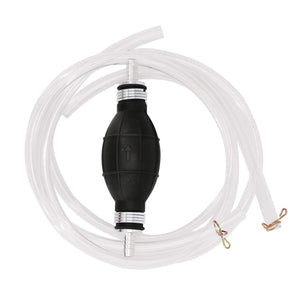 Premium Quality Hand Siphon Pump: Rubber hand pump to start siphoning liquid flowing quickly.2 Double bendable PVC transparent hose, easy to reach into the container, corrosion resistant.
Easy To Use: built-in inlet and outlet valves to prevent liquid backflow, direct extraction, within a few seconds the liquid flows out as indicated by the arrow
Multi-function:Lightweight manual transfer pump for vehicles without anti-theft nets
Wide Usage: This manual water pump is suitable for common liquids such as fuel, diesel, gasoline, oil, water and can also be used as a water exchanger for your home fish tank.
Note:The liquid you want to extract must be higher than the bucket in which the water is fed. The mounting end must remain inside the fluid, not just on the surface.