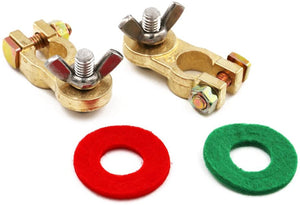 This is universal battery terminal clamps inner diameter of + Pole: 19MM, - Pole: 17MM battery pile head. However, some minority models may be smaller size.Please measure your car battery pile head first, then decide to buy the right size.Thanks.
The battery terminals connectors is made of brass casting, life than ordinary copper battery terminal,functional performance even better.
The thickened brass battery terminal connectors clamps are corrosion resistant, conductive properties, easy to wire, has best electrical conductivity to reduce voltage distortion.
The thickened battery terminal clamps max current 300A.Suitable for heavy duty truck,van,car,marine boat,engineering machinery…
We try to do best to serve our customers,please contact us if have any question.You've got a 30 day 100% Money Back ,no questions asked if you feel our battery terminal connectors not good.Thanks.